KW-Ecoair solar panel, solar air heater, hot air heating
Ventilation and heating for free!
The KW-Ecoair Series of our solar panels heat up air from the south side of a property and blow it into the building using a fan which is powered by a small solar photovoltaic panel. This process will substitute humid and cold air from inside the building with warm and dry air. Humidity is removed which makes the ambient air temperature much more comfortable and the building is also warmer.
The Ecoair 220 solar panel has an integrated temperature differential controller which only allows the system to work if the air in the panel is warmer than the air in the building. The KW-Ecoair 120 and 220 solar panels have a speed regulator for the fan.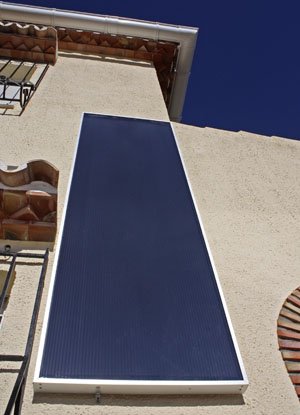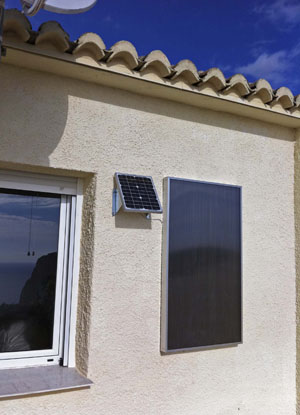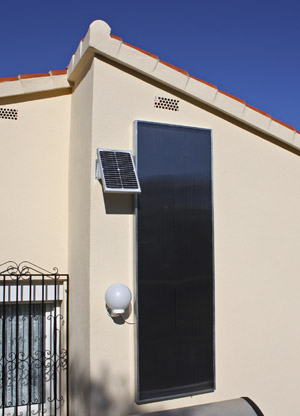 The Air solar panels are most commonly used to:

- ventilate buildings
- support with heating
- reduce humidity
- remove odours
- avoid mildew
The Air solar panels are:

- independent of the grid (no need for electricity)
- without running costs
- easy to use and to install
- maintenance free
- designed to automatically prevent overheating in the panel in summer through natural circulation
- the perfect solution to make you feel more comfortable in your home!
                                           KW-Ecoair 60    KW-Ecoair 120     KW-Ecoair 220    KW-Ecoair 220 XL

Absorbtion area:                   0,4 m2              0,8 m2                 1,5 m2                 2,6 m2
Size in mm:                          600x700x60      1200x700x60       2200x700x60       2200x1200x60
Solarphotovolt. panel:           5 W                   10 W                   10 W                   20 W
Recommended for room size: 5 - 20 m2          20 - 40 m2           40 - 70 m2           50 - 100 m2
Electronics:                          On/Off               speed regulator     speed & temp. diff. regulator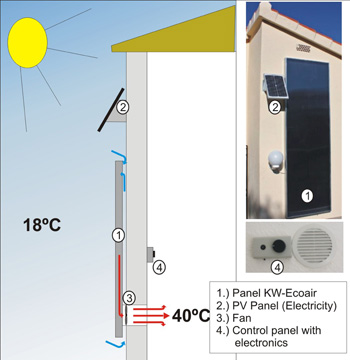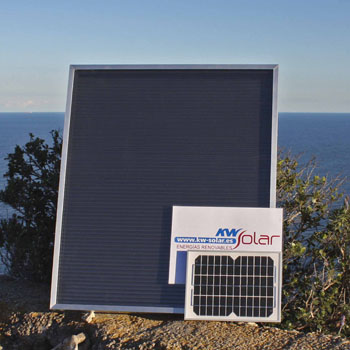 KW-Ecoair solar panel functionality, Presentation: KW-Ecoair 60 solar panel kit

Installation samples from KW Solar between Valencia and Alicante (Costa Blanca):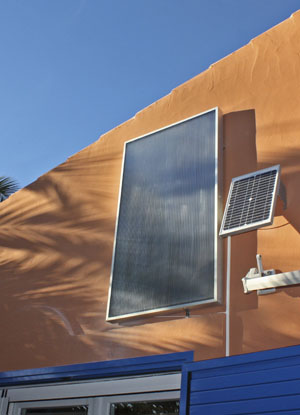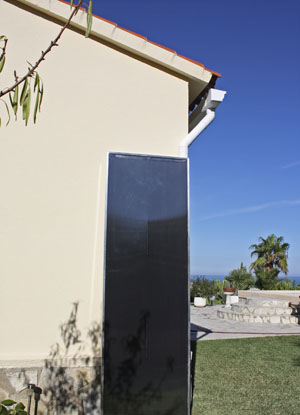 KW-Ecoair 120 in Javea, 2 KW-Ecoair 220 in Monte Pego (Costa Blanca), KW-Ecoair 220 in Denia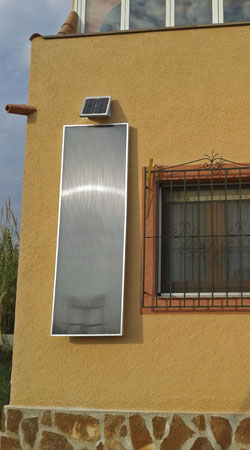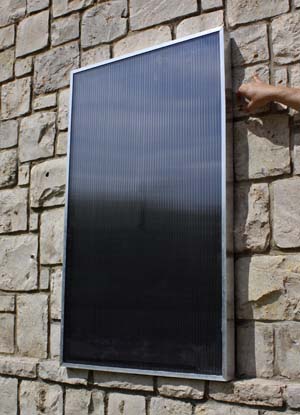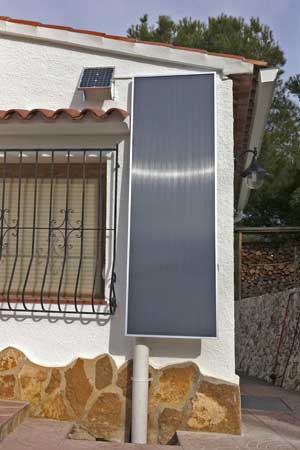 KW-Ecoair 220 in Calpe, KW-Ecoair 120 in Valencia, KW-Ecoair 220 in Benissa
If you would like to get more information (prices, technical details, ...) about our air solar collectors, please get in contact with us.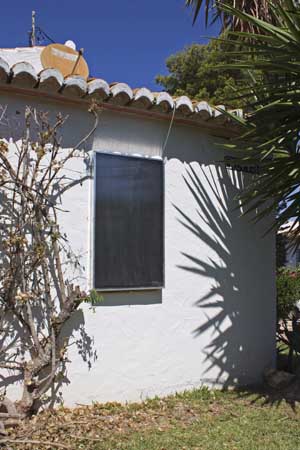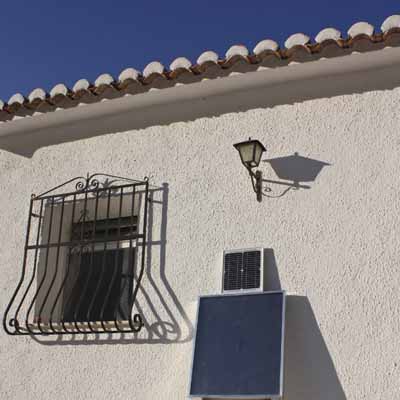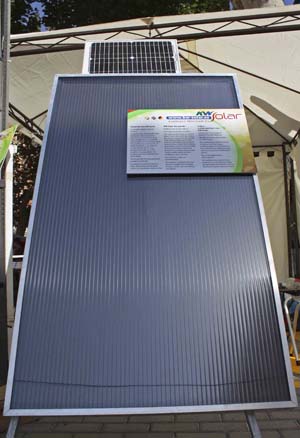 air solar panel ventilation, air dehumidifier with PV-panel, solar air panel presentation at Costa Blanca
We sell our KW-Ecoair solar collectors to all parts of Spain, including Balearic Islands and Canary Islands.